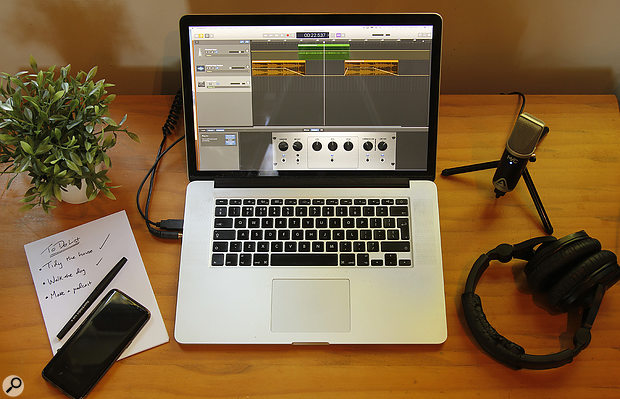 Apple's GarageBand recording software comes free with every Mac/iPad and has everything you need to make pro-sounding podcasts. We show you how...
It doesn't take much to make a podcast these days. Only a few years ago, the software side of things alone would have set you back hundreds, and you'd have had to spend at least the same again to get a good–quality microphone and an audio interface. Nowadays you can get an excellent-quality USB microphone for very little money (see our USB mic round-up elsewhere in this issue), and if you've got a Mac, you already own the software you need. Apple's GarageBand comes free with every Apple computer and iPad tablet, and is essentially a lighter and much easier to use version of Apple's premium Logic Pro?X package, providing an easy and inexpensive way for Mac users to create podcasts as well as music.
Most podcasts comprise one or more voices, sound effects/cues, and some music for the intro and outro. You can of course compose your own music and stings, but if you can't or don't want to, don't worry as GarageBand comes with a large Apple Loops library that includes stings and short musical phrases that you can use without worrying about copyright issues. Tip: don't use commercial music without permission as copyright violations can be expensive!
Before getting stuck in, a word about microphone placement and the surroundings in which you plan to record. It's usually best to set up the mic around 200 to 300 mm from your mouth, and always place a mesh pop screen between the mic and the mouth — around 30 to 50 mm from the mic is ideal. Without this your mic will probably produce popping sounds whenever you pronounce a 'B' or 'P' sound (known as 'plosives').
Unless your room is really dead-sounding, the mic will invariably pick up a bit of boxy room reverb too, which can spoil the otherwise professional presentation of your podcast. A simple and cheap way to improve things is to hang up a thick duvet behind you, and if you are really serious, hang up a couple more at the sides too. These will soak up sound that would otherwise reflect from walls back into the microphone, leaving you with a much more studio-like sound. Don't worry too much about the back of the microphone, as most podcasting mics have a unidirectional or cardioid pickup pattern, which means they are not very sensitive to sounds coming at them from the rear. Having said that, if the room is particularly problematic, you can put another duvet, pillow or commercial screen behind the mic. And if you're doing video podcasts or vlogs, why not get a green duvet cover so you can use the backdrop as a 'green screen'?
If your mic or interface requires drivers, install them first. If you are using a USB mic, as many podcasters do, you probably won't need to, as they tend not to require additional software drivers so you can just plug in and get started.
The first thing you'll want to do is tell GarageBand which audio device to use, which you do in GarageBand's Audio/MIDI preferences page.
When you're all set to go, open GarageBand and you'll be greeted by a largely empty screen in which you'll find an icon labelled Empty Project. This will start a new, blank project — but first, set your mic or interface as the active audio device in GarageBand's Audio Preferences, by clicking on the GarageBand menu at the top of the screen, and going to Preferences, then to the Audio/MIDI tab at the top of the window. Select your interface or USB mic for both the Input and Output device. For those USB mics that don't have a headphone output built in, select the mic as the Input and the Mac's Built-In Output as the Output. If using a capacitor microphone plugged into an audio interface, switch on the phantom power on the interface.
In that same window where you see the Empty Project button, you'll find a folder at the bottom called Project Templates, and though none of these are ideally suited to podcasting, you might still find them useful. For now, we'll make our own....
You are reading one of the locked Subscriber-only articles from our latest 5 issues.
You've read 20% of this article for free, so to continue reading...
Buy & Download this Single Article in PDF format

£1.00 GBP

$1.49 USD


For less than the price of a coffee, buy now and immediately download to your computer or smartphone.

Buy & Download the Full Issue PDF
Our 'full SOS magazine' for smartphone/tablet/computer. More info...

Published June 2020